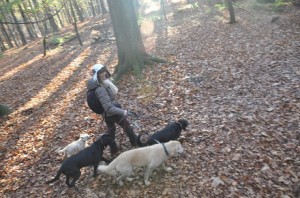 THE FIRST DOGGY DAY CARE IN BELGIUM ! 
The Dog Nanny is proud to announce the creation of a brand new service – and A FIRST IN BELGIUM:  a Doggy Day Care !
Because some dogs just can't stand to stay alone all day and need to spend a lot of energy, The Dog Nanny is happy to offer your dog a whole day of exercise and fun with his buddies!
Many of you were looking for such a service in Belgium but were unable to find a suitable and professional place to entertain their dogs during the day.
Thanks to The Dog Nanny Doggy Day Care, you can now be sure your furry friend will spend all day outdoors and have fun; you can concentrate on your work and not worry about coming home in a hurry to let your dog out.
Read more!:
https://www.thedognanny.be/en/dog-walking-en/doggy-day-care-en/