PROFESSIONALISM
Working with and for animals requires a certain amount of skills and an acute sense of responsibility. You wouldn't feel comfortable leaving your furry friend to someone who doesn't know anything about the animal kingdom and who just wants to earn some extra cash.
I provide you with the following guarantees:
Reliability: The Dog Nanny is a registered professional service with a VAT number. I do not consider dog walking or cat sitting as an occasional job to be taken lightly but as a serious occupation.
Training: I, Sonia Quertenmont, am the creator and manager of The Dog Nanny, I am qualified in dog training (training certified by the Société Royale Saint-Hubert) and in dog CPR and first aid.
Insurance: I am responsible for your pet's wellbeing and actions while it's in my care. Therefore, I have subscribed a tailor-made professional insurance (called "RC professionnelle" in Belgium).
Trust: The Dog Nanny is recommended by veterinarians and other professionals.
Security: In case your pet gets sick or injured, I immediately contact your vet, and in case he or she is unavailable, I take your animal to one of the trustworthy professionals we personally recommend.
PROXIMITY
Me and my colleague Caroline are the only professionals who are authorized to walk your dog.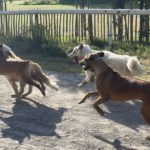 Rest assured your animal is in trustworthy professional hands.
Should you have a question or wish to make a booking, do not hesitate to give me a call or, better, to fill in the contact form. I will get back to you within the next 48 hours.
I will listen to your needs and will provide you with a personalized service and a great availability.
PASSION
My passion for animals led me to create a dog walking service. I left a fixed income and a regular job to spend all of my time with furry friends.
Looking after your dog represents a true calling: patience, respect and dedication are core values in my relationship with animals. I keep your pets' best interests at heart.