The Dog Nanny is also a Doggy Day Care!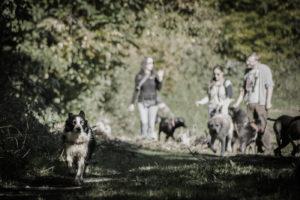 We collect your dog at your home in the morning and bring him back in he afternoon. We don't keep dogs in kennels or closed space; we take them out for two walks in the woods so they get to run, play with their mates and explore all kinds of environments. Each walk lasts between 1 hour and 1h30, depending on the weather conditions and your dog's physical condition. On top of all the interactions they benefit from, and the companionship dogs need so much, your dog spends the whole day with friends from all ages and breeds which is a great way for him to socialize and spend all the energy he has.
The Dog Nanny Doggy Day Care is the ideal solution for energetic dogs who don't stand an entire day of inactivity indoors, and for their owners who can spend long hours at work with peace of mind.
Rates
Doggy Day Care (full day; 2 walks included): 35€
Doggy Day Care, monthly package*: 510€/month
*Monthly package: one walk a day except weekends and legal holidays.
More about Dog Walking
Dog Walking Rates
EnregistrerEnregistrer
EnregistrerEnregistrer