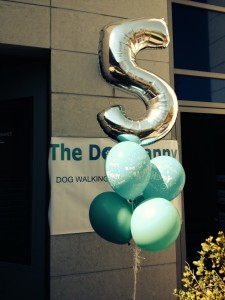 The Dog Nanny celebrated its 5 years on June 6th 2015. To mark the occasion, we invited all our partners and clients for drinks and food; what a great success, you were over 60 to attend the party!
Huge thanks to those of you who believed in us from the start. More and more of you call upon our dog walking, doggy day care and cat sitting service. You made it possible for us to live out of our passion and, thanks to you, we now have an excellent reputation on the market and we can guarantee the sustainability of The Dog Nanny.
I would also like to thank my great team which made it possible to extend my company and offer the quality of our service to more and more animal lovers who want the best for their pet. And thank you to all the aspiring dog and cat sitters who send me their resumes every day! I'm not planning on hiring any extra personnel though: three is the perfect number, big enough to satisfy your requests, and small enough to meet our core values and to ensure a special bond with our beloved clients and pets.
We are so grateful for your trust and loyalty these past 5 years; spending time with your loved ones on a daily basis fills us with great joy. En route for many and many years of cat and dog care! Thank you for allowing us to have the world's best job …
Sonia Quertenmont, your Dog Nanny
All the event pictures here: The Dog Nanny's 5th Anniversary